Mumford & Sons: Wilder Mind
the long-awaited third studio album by British folk rock band Mumford & Sons. Wilder Mind marks the end of Mumford and Sons' hiatus, which they took in 2013 after extensively touring behind Babel. The album moves away from the band's first two albums, adding more electric guitar to the mix and emphasizing the 'rock' side of the 'folk-rock' genre they've been lumped into. "We felt that doing the same thing, or the same instrumentation again, just wasn't for us," Marcus Mumford told Rolling Stone. This musical shift explains the reasoning behind Winston Marshall's switch from banjo to the electric guitar. Includes the single "Believe. "
---
My Morning Jacket: The Waterfall
the seventh album by the Americana heroes. Recorded in Stinson Beach CA, The Waterfall is the band's first release on the Capitol imprint and the follow‐up to their Grammy‐nominated Circuital, which was ranked among 2011's best albums by publications such as Rolling Stone, Paste, MOJO, and Uncut. On The Waterfall, there are moments that reach back to early albums such as 2001's At Dawn and 2003's It Still Moves, the record that gave the band a much broader audience. But the experimentation that marked 2004's Z, 2008's Evil Urges and James' 2013 solo album, Regions of Light and Sound of God is clearly in effect. The Waterfall sounds like history and decades colliding, like a record made by fervent music fans in search of that tingle up the spine. Inveterate music geeks will hear echoes of vintage rock and pop as MMJ continues to honor its influences without aping any of them; The Waterfall sounds like nothing else but also warmly familiar.
---
Best Coast: California Nights
2015 release from the critically-adored indie pop duo, the long-awaited follow-up to their second album The Lonely Place. Vocalist/guitarist Bethany Cosentino is a Los Angeles native with a brief stay in Brooklyn, and Best Coast's influences reflects that: Beach Boys vibe with East Coast 60's girl group influences such as the Ronnettes and Shangri-Las. Best Coast is brought to life with the help of her long-time friend/guitarist/producer Bobb Bruno plus rhythmic assistance from drummer Ali Koehler (Vivian Girls). The pair has received heaps of critical praise from editorial publications including Pitchfork, New York Times, Spin, Paste, Nylon, Rolling Stone and The Guardian.
---
Shelby Lynne: I Can't Imagine
the 13th album from the acclaimed singer/songwriter. I Can't Imagine is Shelby's for Rounder Records. Perhaps the most beautifully crafted and intensely affecting set of songs since her landmark I Am Shelby Lynne in 2000, I Can't Imagine is powered by Lynne's lustrous vocal performance, indelible, illuminative songwriting, and the sympathetic, versatile playing of her top-flight band. Shelby's career began in 1989 when she released her debut album for the country market. Over the next six years, she reluctantly played the music business game, finally bowing out of the spotlight and reinventing herself. When she emerged again in '99, she was in control of her destiny and her I Am Shelby Lynne album became one of the most talked about albums of the year.
---
The Word: Soul Food
Fourteen years after releasing their self-titled album, The Word reconvenes for Part II of their adventure, with the release of 2015's Soul Food. Recorded in both New York and Memphis, Soul Food marks the supergroup's Vanguard label debut. The 12 track album features guest vocalists Amy Helm and Ruthie Foster on two of the songs.
---
Mac McCaughan: Non Believer
Superchunk frontman Mac McCaughan will release Non-Believers, his first solo album under his own name. McCaughan wanted to use the album to explore his attraction to that early-'80s era of music when punk evolved into something more introspective, focusing on themes of isolation and eventually turning into post-punk and new wave. As he puts it, he was thinking about a time when bands were 'using keyboards and drum machines to relate through their music a disaffection or alienation' from society, school, whatever. The record is about a fascination with art that could only be made by someone far from where you are, but who maybe shares the frustrations and awkwardness of youth.
THE NEW RELEASE HOUR ON KRCB: HOT OFF THE PRESSES!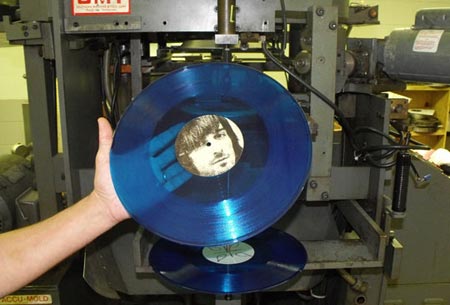 We don't just sell records at the Last Record Store—we also talk about them, obsessively, all day long.
That discussion moves into radio land: Tuesday mornings at 11am (repeated Wednesdays at 7pm) when KRCB-FM pairs the Last Record Store's (and Mid-Day KRCB program host) Doug Jayne with longtime Morning DJ Brian Griffith for
The New Release Hour
. A full hour of commercial-free new releases each week, played and evaluated by two pros who know the music best!
---
TUNE IN, TURN ON, AND DROP… THE NEEDLE!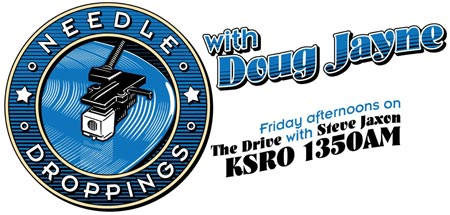 Your second chance to listen in on the discussion comes with
Needle Droppings
, a weekly new-release segment with our very own Doug Jayne and a rotating panel of music junkies, usually including Michelle Marques of KSRO and KRCB, Petaluma Vice Mayor Gabe Kearney, Gabe Meline from KQED, Blair Hardman from Zone Recording and more!
---