NEW RELEASES for October 19, 2018:

Bohemian Rhapsody
Original soundtrack to the 2018 motion picture. For the first time ever, audio tracks from Queen's legendary performance at Live Aid are being released as part of the soundtrack album to Bohemian Rhapsody, 20th Century Fox and Regency Enterprises' feature film celebrating the band, their music and their extraordinary lead singer Freddie Mercury. Recorded at the historic Wembley concert in July 1985, these Live Aid songs are among the rare gems and unheard versions from the band's rich catalogue. – Alongside the show-stopping Live Aid performances of "Bohemian Rhapsody, " "Radio Ga Ga, " "Hammer To Fall" and "We Are The Champions, " the album features other rare live tracks spanning Queen's entire career, new versions of old favorites, and a choice selection of the band's finest studio recordings. Among them are some of Queen's biggest hits, including eleven all-time greatest anthems that reached #1 around the world.
---

Greta Van Fleet: Anthem of the Peaceful Army
from the critically acclaimed rockers. Modern rock n' roll band Greta Van Fleet to release highly anticipated album, Anthem Of The Peaceful Army. The album includes current single "When The Curtain Falls". Greta Van Fleet recently set a record as the first band in 15 years to hit #1 airplay at Active Rock radio with two consecutive singles. Greta Van Fleet formed in 2012 in Frankenmuth, Michigan. The band was signed to Lava Records in March 2017 and a month later, they released their debut studio EP, Black Smoke Rising. A second EP From the Fires, containing the four songs from Black Smoke Rising and four new songs, was released on November 10, 2017. The band's heavy rock sound is heavily influenced by the work of Led Zeppelin although they are mostly influenced by traditional artists from blues, soul, funk and folk music.
---

Disturbed: Evolution
Evolution makes good on the promise of it's title. Disturbed unwaveringly cling to the uncompromising spirit that solidified them as a history-making force, while boldly progressing at the same time. Reteaming with Immortalized producer Kevin Churko behind the board at the Hideout in Las Vegas, the musicians – David Draiman [vocals], Dan Donegan [guitar], Mike Wengren [drums], and John Moyer[bass] – retain their signature thunderous grooves and hypnotic heaviness as they further refine their ambitious melodies and penchant for progression, spanning the gamut of their potential. Says the band: "It is with tremendous pride, joy, and anticipation that we look forward to sharing the next chapter in the creative life of Disturbed with the world. This record is truly unique, and very special to us, and we can only hope that upon listening to it, that the world will feel the same."
---

Elle King: Shake the Spirit
the sophomore album from the singer, songwriter and actress. Shake The Spirit features contributions from acclaimed producer Greg Kurstin and Death Cab For Cutie's Ben Gibbard. According to a statement from King, making Shake The Spirit was like "shaking myself awake." "Making the album not only changed my life, it saved my life" Elle explains. Elle King's musical style encompasses country, soul, rock and blues. In 2012, King released her debut EP, The Elle King EP, on RCA. She released her debut album, Love Stuff on February 17, 2015. The album earned her two Grammy Award nominations. King has toured with acts such as Of Monsters and Men, Train, James Bay (singer), The Dixie Chicks, and Michael Kiwanuka. She is the daughter of actor and comedian Rob Schneider and former model London King.
---

Jason Isbell & the 400 Unit: LIVE From The Ryman
Live From the Ryman was primarily recorded during the group's six sold out nights at Nashville's legendary Ryman Auditorium in 2017. The album features 13 live versions of songs from their last three critically acclaimed, award-winning studio albums – Southeasten (2013), Something More Than Free (2015), The Nashville Sound (2017).
---

Soulfly: Ritual
Both ancient and modern cultures rely heavily on rituals. From religious proceedings that date back millennia to daily 21st century routines such as checking social media, humanity gravitates towards ritualistic behavior for the appearance of order and a semblance of control over life's chaos. Perhaps more than any other art form, ceremonious behavior defines heavy metal. Thousands of fans worship at the altar of a speaker or congregate in person for the sermon of a live show.
Two decades into their storied career, Soulfly continue to engender near cultish zeal with each subsequent album and tour. In that sense, the group's eleventh full-length, Ritual [Nuclear Blast], lives up to the promise of its name with a metallic ceremony of the highest order. The iconic gold-certified quartet—Max Cavalera [vocals, guitar], Marc Rizzo [lead guitar], Zyon Cavalera [drums], and Mike Leon [bass]—cast their word in bludgeoning riffs, thunderous percussion, and menacing growls.
Formed in 1997, Soulfly has become a mainstay in contemporary heavy metal. Led by former Sepultura vocalist Max Cavalera, Soulfly has released 10 full-length albums with combined sales of over 1MILLION records. Mixing many styles of metal with Brazilian tribal, world music and punk, Soulfly are known for crafting something completely unique in the modern heavy music landscape.
---

Yoko Ono: Warzone
Following twenty albums over 50 years, Yoko Ono's Warzone is a strikingly different record from those she has previously made. Revisiting and reimagining 13 songs from her past work, spanning 1970-2009, the lyrics and messages are still pertinent-perhaps even more pertinent-in 2018. Recent US presidents and many of our world leaders have never served in the military, yet they continually nourish and serve the corporate-infused military industrial complex, keeping the world in a perpetual warfare. Warzone further builds the legacy of an artist unparalleled in her unique and singular vision. With it's stripped down recordings and arrangements, and a particular emphasis on Yoko's voice and lyrics, the content of her message rings clear and unencumbered, with wisdom and fortitude her power has intensified with time and life experience.
---

Neneh Cherry: Broken Politics
How do we conduct ourselves in extraordinary times? By what metric do we judge our own capacity to make change? In an era where the signal-to-noise ratio is more uneven than ever, what are the measures we must take to retain and remember our own personhood? Neneh Cherry's extraordinary fifth solo album, Broken Politics, asks these questions and more-searching for answers, patiently and with great care, and with a fearlessness to acknowledge that sometimes the answers don't even exist. It's a record that's equal parts angry, thoughtful, melancholy, and emboldening, as Cherry and her collaborators continue to expand her ever-widening sonic palette to craft truly singular and potent electronic pop.
---
NEW RELEASES for October 12, 2018

John Hiatt: The Eclipse Sessions
John Hiatt's newest album, offers up his strongest set of songs in years. Long celebrated as a skilled storyteller and keen observer of life's twists and turns, Hiatt can get at the heart of a knotty emotion or a moment in time with just a sharp, incisive lyric or witty turn of phrase. The 11 tracks presented in The Eclipse Sessions, from the breezy opener "Cry To Me," to the stark "Nothing In My Heart," the lost-love lamentation "Aces Up Your Sleeve" to the rollicking "Poor Imitation Of God," demonstrate that the singer-songwriter, now 66, is only getting better with age, his guitar playing more rugged and rootsy, his words wiser and more wry.
---

Elvis Costello: Look Now
Recorded in Hollywood, New York City and Vancouver, British Columbia, Look Now is beautiful in it's simplicity, reflective in it's lyrical vision, surrounded by melodies and orchestrations that are nothing short of heavenly. It's the first album Costello has made with The Imposters since the 2008 release of Momofuku and his first new album since the acclaimed 2013 Roots collaboration, Wise Up Ghost. Look Now is an outstanding 12-strong addition to his song catalog. Most of the titles were written solely by Elvis Costello although, 'Don't Look Now' and 'Photographs Can Lie' were co-written with Burt Bacharach, who makes a guest appearance, leading The Imposters from the piano for those two ballads. The album was co-produced by Elvis and Sebastian Krys – the Latin Grammy Producer of the Year for 2007 and 2015, whose love and understanding of music spans both hemispheres.
---

Travis Scott: Astroworld
the third studio album by rapper Travis Scott. The album follows his second studio album Birds in the Trap Sing McKnight (2016), and his collaborative album Huncho Jack, Jack Huncho (2017) with Quavo. The album features guest vocals from Kid Cudi, Frank Ocean, Drake, The Weeknd, James Blake, Swae Lee, Gunna, Nav, 21 Savage, Quavo, Takeoff, Juice Wrld, Sheck Wes and Don Toliver, among others. Production was handled by multiple high-profile producers, including Mike Dean, Allen Ritter, Hit-Boy, WondaGurl, Tay Keith, Tame Impala, Frank Dukes, Sonny Digital and Thundercat. The album includes the singles, "Butterfly Effect" and "Sicko Mode".
---

Atreyu: In Our Wake
Following a short hiatus, Atreyu returned firing on all cylinders with Long Live during 2015. It crashed the Top 30 of the Billboard Top 200 and earned widespread acclaim. The band sold out countless headline shows in addition to sharing the stage with everyone from Slipknot to Linkin Park. After a two-year tour cycle for Long Live, Atreyu regrouped in Southern California for what would become offering number seven, reuniting with producer John Feldmann who famously helmed Lead Sails Paper Anchor. Atreyu has been described as metalcore and post-hardcore.
---

Uncle Acid & The Deadbeats: Wasteland
A disorientating journey through Kevin Starrs' (aka Uncle Acid) wonkiest dreams, Wasteland glides majestically from punchy and direct psych-rock anthems like "I See Through You" and "Shockwave City" to the viscous, somnambulant ooze of the eight-minute "No Return" and the twinkly-eyed bad trip of the album's mesmerizing title track. Recorded at the legendary Sunset Sound studio in Los Angeles, Wasteland boasts the kind of irresistibly raw and exuberant sound that only the greatest bands can generate.
---

Bottle Rockets: Bit Logic
Formed nearly 30 years ago, The Bottle Rockets helped forge a now popular subgenre-small-town, middle-class, Midwest American roots rock-part right-to-the-gut poetry, part rock 'n' roll, all truth. Bit Logic is a different sort of album for the St. Louis natives and shows them at their most self-aware, self-challenging, and socially alert. Recorded in St. Louis at Sawhorse Studios, engineered by Mario Viele and produced by longtime studio collaborator Eric "Roscoe" Ambel (The Del-Lords, Steve Earle), The Bottle Rockets' 13th album has them looking at their unique stylistic blend through a different lens. While one of the group's earmarks is constructing blue-collar anthems, Bit Logic has the quartet focusing outside themselves, at how change and adaptation affects the bigger picture.
---

Kurt Vile: Bottle It In
the first solo album in three years from the acclaimed indie musician. Bottle It In includes the single "Loading Zones." Contributors include Kim Gordon (who plays acoustic guitar on "Mutinies"), Mary Lattimore, Cass McCombs, Warpaint's Stella Mozgawa, and Lucius' Holly Laessig and Jess Wolfe, among others. The record was produced by Kurt Vile, the Violators (Rob Laakso, Kyle Spence, and Jesse Trbovich), Peter Katis, Shawn Everett, and Rob Schnapf. Bottle It In follows Vile's 2017 joint album with Courtney Barnett, Lotta Sea Lice.
---

Colter Wall: Songs Of The Plain
After two years of relentless touring, Colter Wall wanted to make an album about home. Drawing on the stories of Saskatchewan, Canada, the young songwriter's corner of the world takes shape throughout his second full-length album, Songs of the Plains. Produced by Dave Cobb in Nashville's Studio A, the project combines striking original folk songs, well-chosen outside cuts, and a couple of traditional songs that reflect his roots growing up in the small city of Swift Current.
---

Blues Traveler: Hurry Up & Hang Around
Songs that last tell stories. Real magic happens when a cranked guitar chord, wailing harmonica, saucy beat, and soulful vocal conjure up a psychedelic scene, a warm family memory, or a romance-gone-wrong (or -right, for that matter). Since 1987, Grammy Award-winning multi-platinum rock mavericks Blues Traveler – John Popper [vocals, harmonica], Chan Kinchla [guitar], Tad Kinchla [bass], Ben Wilson [keyboards], and Brendan Hill [drums] – have spun such tales. Moreover, they proudly continue this tradition on their thirteenth full-length album, Hurry Up & Hang Around.
---

Young The Giant: Mirror Master
Following 2016's critically-acclaimed Home of the Strange, Mirror Master promises to continue ascending into consciousness, though this time with a heavy focus on personal self-awareness. Describing the overall thesis for Mirror Master, lead singer Sameer Gadhia expands, "Look in the mirror. What do you see? A familiar figure; a stranger; a monster? What we forget to realize is that the image that reflects is just an illusion. Like the world, we are made up of fictions of things people tell us. How we should dress, what we should believe in, what type of stock to invest in, how we should vote. What is our free will, if we trudge across tracks already traveled? If there is nothing else we control; nothing else new, we are at least in control of ourselves; can make our paths novel and undefined; shatter categories, stereotypes, and roles. Do what we want to do, think freely and not how others tell us to-live beneath the surface of things. Now look at the mirror again. What do you see? Only you are the master of what comes next." – Young the Giant have released two previous albums: their eponymous debut in 2010 and Mind Over Matter in 2014.
---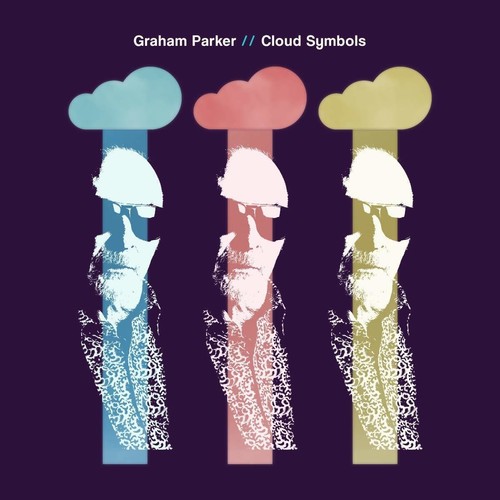 Graham Parker: Cloud Symbols
The inimitable Graham Parker is back with a new album entitled Cloud Symbols. With his Rumour packed away, Graham enlists a new gang, The Goldtops (Martin Belmont, Geraint Watkins, Simon Edwards and Roy Dodds), on this record (who, incidentally feature former Rumour member Martin Belmont). Additionally, The Rumour Brassalso feature on six of the tracks.
~~~~~~~~~~~~~~~~~~~~~~~~~~~~~~~~~~~~~~~
Laughing Gravy: Gram Parsons and Beyond!
Friday, October 26th 7:30 PM

Sonoma County's Laughing Gravy is back! with 'An Evening of Cosmic American Music'. This popular band of super-accomplished American roots musicians has been paying musical tribute to country-rock icon Gram Parsons since 2003, when LG was founded by radio personality, producer and musician (and record store dweeb) Doug Jayne. Much of their material is original, but on this night, the focus will be mainly on songs that were either written or covered by Gram Parsons, who would have turned 72 on November 5.
Laughing Gravy is Doug Jayne on acoustic guitar and vocals; Allegra Broughton on acoustic guitar and vocals; Kevin Russell on banjo, mandolin, guitars and vocals; Sam Page on bass and vocals; Dan Ransford on drums; Bobby Lee on pedal steel and vocals; and Ron Stinnett on keyboards and accordion.
Tickets are available at Last Record Store too….