One of our favorite local bands; great music, wonderful people: Timothy O'Neil Band !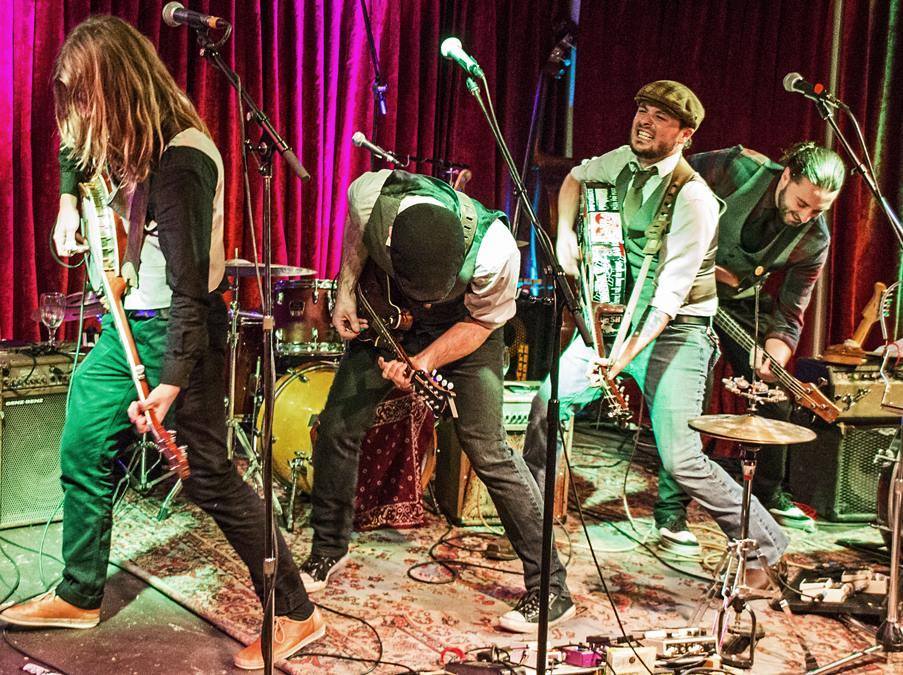 New David Crosby: 4th album in 4 years !
David Crosby, who turned 77 this month, has experienced a late career resurgence unlike almost any other in the history of rock 'n' roll. Becca Stevens, Michael League and Michelle Willis backed Crosby on his tour in support of 2016's acclaimed Lighthouse album, and BrooklynVegan said of the quartet's NYC show at Town Hall, "they also clearly help him sound great. Crosby's voice has aged wonderfully, but you'd have to assume the younger singers' harmonies are part of what made everything sound so rich last night. This project reflects the collaboration with that amazing group.
---

Small Town Big Sound: Muscle Shoals Tribute
Since the 1960s, the city has been known for music – developing the "Muscle Shoals Sound", as local recording studios (including FAME Studios in the late 1950s and Muscle Shoals Sound Studio in 1969) produced hit records that shaped the history of popular music. This tribute to THOSE songs and THAT history reigns supreme with some of the most popular and influential artists participating in music history today. From Chris Stapleton, Willie Nelson, Lee Ann Womack and Jamey Johnson, to Demi Lovato, Steven Tyler, Keb' Mo, Grace Potter and Aloe Blacc, an absolute cavalcade of stars lend their own personal embellishment to these classic songs.
---

Suspiria: Famous Radiohead member scores first movie: Suspiria
Original score to the 2018 motion picture featuring music composed by Radiohead's Thom Yorke. Tis soundtrack includes five original songs from the remake of Dario Argento's cult classic Suspiria. The Luca Guadagnino directed film stars Dakota Johnson and Tilda Swinton. Deserving an update of it's own, the insanely awesome artwork is by Stanley Donwood. His art can also be found across album covers from Radiohead and Atoms For Peace.
---

New Blackberry Smoke: The Southern Ground Sessions
Created as an accompaniment, to their acclaimed new album, Find A Light, this six-song EP was recorded live at Southern Ground studio in Nashville, TN and features acoustic versions of five album tracks as well as a rendition of Tom Petty's "You Got Lucky" featuring Amanda Shires.
---

Country Supergroup, Pistol Annies
the third album from country music supergroup. The Pistol Annies – Miranda Lambert, Ashley Monroe and Angaleena Presley – release Interstate Gospel, the follow-up to the trio's two previous albums, 2011's Hell on Heels and 2013's Annie Up. All of the songs where co-penned by the Annies, with the exception of "This Too Shall Pass," which was penned by Ashley and Angaleena.
---

We love us some Babs
Walls is the stunning new album from Barbra Streisand. This collection is Streisand's first album primarily consisting of original songs since 2005. Walls finds Barbra exploring both her concerns and hopes for the future in a collection filled with beautiful melodies and thought-provoking lyrics. In addition to the three original tunes which the Oscar-winning songwriter contributed to, the songs on Walls explore topics near to the celebrated artist's heart. Streisand also brings a fresh perspective to the classic songs "Imagine" and "What A Wonderful World," and the Bacharach/David pop standard "What The World Needs Now." The penultimate song that Streisand sings is a timely one called "Take Care Of This House" by the legendary composer Leonard Bernstein and lyricist Alan Jay Lerner. Barbra she shares production and arrangement duties on Walls with Walter Afanasieff, John Shanks and David Foster all Grammy recipients for Producer of the Year and Songwriter Hall of Fame recipient Desmond Child. Streisand's vision also comes through on the defining title track "Walls," with lyrics specifically written for the album by revered Streisand collaborators Alan & Marilyn Bergman.
---

Wonderful Rosanne Cash
Dreams still beckon in a damaged world, and Rosanne Cash renders them with fierce grace on She Remembers Everything. The follow-up to Cash's 2014 release The River & the Thread, recipient of three Grammys including Best Americana Album, the album offers shimmering pop-with hints of twang and jazz-that could find a home in almost any year of postwar American music. But the luminescence and bright production are shot through with a darker vision, trenchant vocals, minor chords, and bent notes that destabilize the landscape. Familiar yet alien, Cash's take on being a woman in the world reveals just how much has gone awry. Closing out the four decades Cash has spent as a recording artist, She Remembers Everything contains echoes of nearly all her previous styles. Listeners familiar with "Seven Year Ache" or Interiors will recognize the knowing ache of this record. Those who listened to recordings and live shows in subsequent years-which have included residencies at the San Francisco Jazz Center, Carnegie Hall, and the Library of Congress-will likewise find the literary voice that has framed her more recent music. Cash's time focused on roots music also lends a classic form to her songwriting that makes it universal and timeless.
---

If Blood On The Tracks is your favorite Dylan album, this is for you: More Blood More Tracks
The latest chapter in the highly acclaimed Bootleg Series makes available the pivotal studio recordings made by Bob Dylan during six extraordinary sessions in 1974 that resulted in the artist's 1975 masterpiece, Blood On The Tracks. You can get a single disc set, or…
The 6CD full-length deluxe version includes the complete New York sessions in chronological order including outtakes, false starts and studio banter. The album's producers have worked from best sources available, in most cases utilizing the original multi-track session tapes.
The only recordings remaining from the Minneapolis sessions are the multi-track masters of the five performances included on the finished Blood On The Tracks album. Each of these has been remixed and remastered for the deluxe edition.
The deluxe box set is a strictly limited edition. The set includes a hardcover photo book featuring liner notes by rock historian Jeff Slate and a complete reproduction of one of Dylan's legendary handwritten 57 page notebooks, where you can follow the lyrical development of the songs that would eventually comprise Blood On The Tracks.
---
HOLIDAY ALERT

Yes, we have our Christmas albums out early…There's a new Rodney Crowell…
"My childhood memories of Christmas aren't warm and fuzzy. The holidays were more of a nuisance for my parents than cause for celebration. This is not to say that on behalf of their only child they didn't give the season a halfhearted try. There were Christmases when I found under the tree an electric football set, a Daisy pump air-rifle and a basketball goal that never got nailed up. But, there were also mornings when apples, oranges, hickory nuts and a hammer signified that year's bounty. Which is to say that Christmas in our household was mostly a wait-and-see proposition. I was finally ready to record an album of original Christmas songs. With Dan Knobler producing and some very gifted musicians and vocalists lending their talents, the making of the album Christmas Everywhere ranks as some of the most enjoyable recording sessions I've ever experienced.
---

EC Keeps The X in Xmas
Eric Clapton's first ever full-length studio holiday album, Happy Xmas, is on Clapton's Bushbranch Records/Surfdog Records. Happy Xmas is Clapton's 24th studio album and his first since 2016's I Still Do. It mixes instantly recognizable holiday classics with lesser-known unique titles along with an original new song "For Love On Christmas Day." The album also features cover art illustration by Clapton himself. Clapton's bluesy spins on the classics are quite a delight: "White Christmas," "Away in a Manger," "Jingle Bells (In Memory of Avicii)," "Silent Night," "Merry Christmas Baby," "Have Yourself a Merry Little Christmas" and more (including some obscure holiday tunes and a new original, too).
---

Marianne isn't ready to say "So Long" yet.
Negative Capability (a title borrowed from Romantic poet John Keats) is Marianne Faithfull's twenty-first album and the most emotionally powerful of her 54-year recording career. Facing down arthritis and bolstered by collaborators including Warren Ellis, Nick Cave, Rob Ellis, Ed Harcourt and Mark Lanegan, Negative Capability is charged with brutal honesty and autobiographical reflection as she addresses losing old friends, the loneliness of living in her adopted city of Paris and still hoping love can come around. It includes the single "The Gypsy Faerie Queen" co-written with Nick Cave and covers of contemporaries The Rolling Stones ("As Tears Go By") and Bob Dylan ("It's All Over Now, Baby Blue").
---

Will Oldham: Songs of Love and Horror
Songwriter Oldham, guitar and voice operating in quiet tension and ultimate accord, revisits songs that made him (that he made) and others in new versions that quiver like fresh young things in the air of today.
---

New Charles Mingus ! Jazz in Detroit
The radical discovery by Amir Abdullah of 5 two-track master tapes in the care of Hermine Brooks – – widow of innovative Detroit drummer Roy Brooks – of the Charles Mingus Quintet recorded live in Detroit at Strata Concert Gallery is cause for some serious celebration. These electrifying recordings took place during Mingus' week-long residency in February 1973. They were broadcast live by drummer/producer and broadcaster Robert "Bud" Spangler for WDET FM – a public radio station dedicated to jazz – from Kenny and Barbara Cox's multi-purpose home for Strata Records at 46 Seldon. Entrance to the gig was $5 dollars in advance and $6 on the door. The music on these tapes is blazing. According to the late Roy Brooks, the band – which included himself and fellow Detroit trumpeter Joe Gardner – had not long returned from playing two tours in Europe. Fresh to the quintet was stellar pianist Don Pullen and listening to these recordings Pullen's church-driven power, blues sensibility and harmonic sophistication perfectly complements the bassist's own vision. On tenor saxophone we have the soulful and innovative John Stubblefield. Like Pullen he was a recent recruit. Unfortunately, the saxophonist's time with Mingus lasted a mere 5 months: "I got in a fight with Mingus and I shouldn't have done that. After that, I couldn't get arrested in New York." Ironically, when Sue Mingus formed the Mingus Big Band in 1992, to perpetuate her husband's legacy, Stubblefield emerged as a talismanic presence in the ensemble until he passed in 2005.
---

New Muse
Simulation Theory is the eighth studio album by Muse. Co-produced by the band with Rich Costey, Mike Elizondo, Shellback, and Timbaland, it is a synth-rock album with themes of simulation and centering on the idea of "fantasy becoming real". Contrasting the band's previous three albums which dealt with darker themes, the band sought lighter influences from science fiction and 1980s pop culture and produced the album one track at a time without a focus on a greater narrative or theme. Recording began at AIR Studios in London in early 2017 with Elizondo, creating three tracks before embarking on a midyear tour of North America. Production restarted in Los Angeles in late 2017 with Costey, who had co-produced the band's 2003 album Absolution and 2006 album Black Holes and Revelations. "Era-blending" juxtapositioning and the contemporary political climate of the United States informed the album's music and lyrics.
---

Imagine. A NEW Imagine Dragons titled Origins
the fourth studio album by rock band Imagine Dragons. Includes the singles "Natural" and "Zero". Imagine Dragons first gained exposure with the release of their award-winning debut studio album Night Visions (2012). MTV called them "the year's biggest breakout band", and Billboard named them their "Breakthrough Band of 2013". The band's second studio album Smoke + Mirrors (2015) reached number one in the US, Canada and the UK. The band released their third studio album, Evolve (2017) which resulted in three chart-topping singles. Imagine Dragons has won three American Music Awards, nine Billboard Music Awards, one Grammy Award, one MTV Video Music Award and one World Music Award. The band has sold 12 million albums and 35 million singles worldwide.
---

They Say It's Your 50th Birthday. Or Anniversary. Or Whatever.
In November 1968, millions of double LPs were shipped to record stores worldwide ahead of that tumultuous year's most anticipated music event: the November 22nd release of The BEATLES (soon to be better known as 'The White Album'). With their ninth studio album, The Beatles took the world on a whole new trip, side one blasting off with the exhilarating rush of a screaming jet escorting Paul McCartney's punchy, exuberant vocals on "Back In The U.S.S.R." "Dear Prudence" came next, John Lennon warmly beckoning his friend and all of us to "look around." George Harrison imparted timeless wisdom in "While My Guitar Gently Weeps," singing, "With every mistake we must surely be learning." Ringo Starr's "Don't Pass Me By" marked his first solo songwriting credit on a Beatles album. For 50 years, 'The White Album' has invited its listeners to venture forth and explore the breadth and ambition of its music, delighting and inspiring each new generation in turn.
On November 9, The Beatles will release a suite of lavishly presented 'White Album' packages (Apple Corps Ltd./Capitol/UMe). The album's 30 tracks are newly mixed by producer Giles Martin and mix engineer Sam Okell in stereo and 5.1 surround audio, joined by 27 early acoustic demos and 50 session takes, most of which are previously unreleased in any form.
The Beatles' newly adopted method of recording all through the night was time consuming and exhausting for their producer, George Martin. Martin had other duties, including his management of AIR (Associated Independent Recording), and he had also composed the orchestral score for The Beatles' animated feature film, Yellow Submarine, released in July 1968. After the first three months of 'White Album' sessions, Martin took a three-week holiday from the studio, entrusting the control room to his young assistant Chris Thomas and balance engineer Ken Scott. Scott had taken the place of engineer Geoff Emerick, who left the sessions in mid-July. On August 22, Ringo Starr also left the sessions, returning 11 days later to find his drum kit adorned with flowers from his bandmates. While the sessions' four and a half months of long hours and many takes did spark occasional friction in the studio, the session recordings reveal the closeness, camaraderie, and collaborative strengths within the band, as well as with George Martin.
"We had left Sgt. Pepper's band to play in his sunny Elysian Fields and were now striding out in new directions without a map," says Paul McCartney in his written introduction for the new 'White Album' releases.
This is the first time The BEATLES ('White Album') has been remixed and presented with additional demos and session recordings. The album's sweeping new edition follows 2017's universally acclaimed Sgt. Pepper's Lonely Hearts Club Band Anniversary Edition releases. To create the new stereo and 5.1 surround audio mixes for 'The White Album,' Martin and Okell worked with an expert team of engineers and audio restoration specialists at Abbey Road Studios in London. All the new 'White Album' releases include Martin's new stereo album mix, sourced directly from the original four-track and eight-track session tapes. Martin's new mix is guided by the album's original stereo mix produced by his father, George Martin.
"In remixing 'The White Album,' we've tried to bring you as close as possible to The Beatles in the studio," explains Giles Martin in his written introduction for the new edition. "We've peeled back the layers of the 'Glass Onion' with the hope of immersing old and new listeners into one of the most diverse and inspiring albums ever made."
Super Deluxe:
The comprehensive, individually numbered 7-disc and digital audio collections feature:
CDs 1 & 2: The BEATLES ('White Album') 2018 stereo album mix
CD3: Esher Demos
Esher Demo tracks 1 through 19 sequenced in order of the finished song's placement on 'The White Album.' Tracks 20-27 were not included on the album.
CDs 4, 5 & 6: Sessions
50 additional recordings, most previously unreleased, from 'White Album' studio sessions; all newly mixed from the four-track and eight-track session tapes, sequenced in order of their recording start dates.
Blu-ray:
2018 album mix in high resolution PCM stereo
2018 DTS-HD Master Audio 5.1 album mix2018 Dolby True HD 5.1 album mix
2018 direct transfer of the album's original mono mix
The remix sounds great and is available just by itself without the accoutrements; either Double LP or Double CD

---

New One From $horty The Pimp
the first album in five years from the rapper. Living legend Too $hort returns with the release of The Pimp Tape. The album is the first full-length release since 2012's No Trespassing. The album boasts all-star features from G-Eazy, E-40, Ty Dolla $ign, Jeremih, French Montana, T.I., 2 Chainz, Snoop Dogg, Mistah F.A.B., Ray J, and Jazze Pha.
---

Final album from the Screaming Eagle of Soul, Charles Bradley: Black Velvet
This 10-track album pulls together previously unreleased material from sessions for each of Bradley's three albums, 2011's No Time for Dreaming, 2013's Victim of Love, and 2016's Changes. The songs include a duet with LaRose Jackson called "Luv Jones", an alternate full band take of "Victim of Love", and a trio of covers: Nirvana's "Stay Away", Neil Young's "Heart of Gold", and Rodriguez's "Slip Away". The title track is an Menahan Street Band instrumental for which Bradley never got the chance to record vocals.
---

J Mascis
"Like it's predecessors, Elastic Days was recorded at J's own Bisquiteen studio. Mascis does almost all his own stunts, although Ken Miauri (who also appeared on Tied to a Star) plays keyboards and there are a few guest vocal spots. These include old mates Pall Jenkins (Black Heart Procession), and Mark Mulcahy (Miracle Legion), as well as the newly added voice of Zoë Randell (Luluc) among others. But the show is mostly J's and J's alone. But for those expecting the hallucinatory overload of Dinosaur Jr's live attack, the gentleness of the approach here will draw easy comparisons to Neil Young's binary approach to working solo versus working with Crazy Horse. This is a lazy man's shorthand, but it still rings true.
---

New Rhett Miller
Old 97's founding member Rhett Miller returns with his seventh solo album, The Messenger. Recorded earlier over five days at The Isokon in Woodstock, NY with producer/musician Sam Cohen (Kevin Morby, Benjamin Booker), The Messenger sees Miller playing it faster and looser than perhaps any other time in his quarter century career, instilling what might be his most personal songs to date with a groovy limberness that belies the reflective darkness within. Rhett Miller is best known as the lead singer of the alternative country band Old 97's. He also records and performs as a solo musician, and has been published as a writer of both fiction and non-fiction.
---

Jon Spencer has gotten back together…and Sings The Hits
Jon Spencer, the Blues Explosion man who put the "Bellbottoms" on Baby Driver! The top cat who spread the secret sauce in Boss Hog! The rockabilly right-hook from heavyweight outlaws Heavy Trash! The swank-f***ing master of Pussy Galore! Jon Spencer is back! Often imitated, never duplicated, the original NYC underground-rock legend returns from the wilderness with twelve red-hot hits, each more powerful than the last! This is Garage Punk for Now People! A wizard's brew of rhythm and blues and subversive dance grooves, weaponized with sci-fi skronk and industrial attitude, calibrated for the Revolution, a Molotov cocktail of sound guaranteed to destroy any post-modern hangover. Pulsing with energy, clanging with excitement, and dripping with radioactive soul and raw emotion, Spencer opens up his heart like never before, exploring man's modern condition with caustic guitars and outerworld crooning, asking and answering the musical question, "Is it possible to torch the cut-throat world of fake news and pre-fab, plastic-coated teen rebellion with the power of rock 'n' roll?" The answer is yes-on Spencer Sings The Hits! This is the truth serum America has been craving, the beginning of a rock 'n' roll rebellion that takes no prisoners and puts the squares on ice!
---

Artwork by Ronnie Wood, Songs picked by Mick & Keef. It's…
Confessin' the Blues collects the greatest bluesmen ever and provides a perfect study of the genre. The tracks on the various formats of the release have been chosen by The Rolling Stones in collaboration with BMG and Universal. Confessin' the Blues includes tracks by the biggest blues pioneers including Howlin' Wolf, John Lee Hooker, Elmore James, Muddy Waters, Chuck Berry, Big Bill Broonzy and Robert Johnson. Confessin' the Blues will be available as a 2-CD set, 2×2 Vinyl LP sets and a 5×10″ Vinyl book-pack (mimicking the original 78 RPM releases). All versions include liner notes by music journalist Colin Larkin and the book-pack contains removable art card prints by noted blues illustrator Christoph Mueller. The album cover artwork comes courtesy of Wood, who has added his own personal twist to the project by painting his interpretation of a bluesman.
---

They could have been named Dawn of the Buffalo (as suggested by a friend)but they though he said Donna the Buffalo
Dance In The Street is the first album of new material in five years. The Americana jam act headed to Street at Sonic Ranch Studio in El Paso to team up with producer/engineer Rob Fraboni whose list of credits include producing the soundtrack for The Band's The Last Waltz along with working with the likes of Bob Dylan, Eric Clapton and The Rolling Stones. Apt naturally.
---