NEW RELEASES OUT September 27 (now):

With the Beatles, it turns out that you can go home again. For the third consecutive year, the folks at Abbey Road Studios have treated listeners to remixes and outtakes from yet another classic Beatles album. And "Abbey Road," following bravura editions of "Sgt. Pepper's Lonely Hearts Club Band" and "The White Album," doesn't disappoint.
But with "Abbey Road," the nature of the achievement is strikingly different from its predecessors. With "Sgt. Pepper" and "The White Album," there were plenty of outtakes from which Giles Martin and his team could choose. And both records benefitted greatly from their treatment at the hands of 21st century technology, which widened both sound palettes considerably and allowed them, finally, to breathe.
When it comes to "Abbey Road," there are simply fewer outtakes available. The LP was recorded over a period of a few scant months in comparison to the Beatles' earlier masterworks — behemoth projects for which the group and their production team put in hundreds upon hundreds of hours in the studio. In addition to being the first Beatles album recorded explicitly for stereo release, "Abbey Road" also marked the band's first and only experience with solid-state electronics after years of working with tube equipment.
And the result was, in a word, revolutionary. The sound of the Beatles that had thrilled the world over — the "maximum volume" that Martin had coaxed out of EMI's aging studio gear — had been conspicuously altered by the subatomic properties inherent in the TG 123545, the solid-state mixing desk that had been installed at the Abbey Road facility back in November 1968, after the Beatles had put the finishing touches on "The White Album."
With its wider sonic spectrum, the new mixing desk reshaped the Beatles' sound significantly, affording them with more range, not to mention a warmer, brighter quality inherent in their recordings from that era. In fact, when Abbey Road was released in the autumn of 1969, many listeners blanched at the palpable sonic differences in the Beatles' sound. As far as they were concerned, the character of the Fab Four had been irrevocably changed.
As the Beatles' final studio album — released only a few days after they'd secretly decided to call it quits — "Abbey Road" has come to enjoy a vaunted place among the band's corpus. And the record's jaw-dropping sales receipts bring that story into stark relief. By June 1970, "Abbey Road" had emerged as the band's bestselling American LP, with more than five million units sold. By the dawn of the current decade, those figures had grown to an eye-popping 31 million copies.
Not surprisingly, "Abbey Road" exists as the culmination of the band and their production team's creative artistry, with their songwriting, musicianship, and technical knowhow having reached their zenith. To Giles Martin's credit, the "Abbey Road" remixes elevate these enduring qualities in both the new versions of the songs and the outtakes.
While the remixes don't hold any mind-altering surprises regarding the "Abbey Road" recordings, there is plenty to enjoy in the deluxe package. If nothing else, fans will marvel at the stunning beauty of George Martin's orchestrations for "Something" and "Golden Slumbers/Carry That Weight." In and of themselves, Martin's scores demonstrate the ways in which he infused the Beatles' finest compositions with, by turns, whimsy and dramatic power.
Which brings us to "the Long One," the band's sobriquet for the symphonic suite that brought their career to a unique and formidable close. Recorded as a trial edit on July 30, 1969, the medley offers a portrait of "the Long One" in midstream. If the remixes yield any genuine revelations, this is surely it. Still ragged with some transitions lost in the creative process, this version of "the Long One" depicts the Beatles actively working as artists in the act of honing and polishing one of their most admired musical fusions.
In their most charming moments, the outtakes afford us with a window into the Lennon-McCartney partnership. Their banter is on full display in an early take of "The Ballad of John and Yoko," which the two old friends recorded as a duet without input from bandmates George Harrison or Ringo Starr. During a break in the recording session, Lennon can be heard saying "Go a bit faster, Ringo!" with McCartney good-naturedly replying "Okay, George!" from his place behind Starr's drum kit. Even more effecting is the studio banter at the conclusion of an early take of "Come Together" where Lennon, exhausted with his guide vocal, chides himself for his "teenage lyrics."
For Beatles fans in specific and music lovers in general, the "Abbey Road" remixes are not to be missed. And in terms of pop music history, the deluxe package offers a final, fleeting glimpse into the greatest rock 'n' roll band that ever was.
by Kenneth Womack : the author of a two-volume biography of the life and work of Beatles producer George Martin. He is Dean of the Wayne D. McMurray School of Humanities and Social Sciences at Monmouth University. His latest book, "Solid State: The Story of Abbey Road and the End of the Beatles," is available now, in celebration of the album's 50th anniversary.
---

Sturgill Simpson: Sound & Fury
Produced by Simpson, Sound & Fury, was recorded primarily at the McGuire Motor Inn in Waterford, Michigan, with his bandmates Bobby Emmett, Chuck Bartels, Miles Miller, who all serve as co-producers along with Grammy nominee John Hill (Cage The Elephant, Portugal. The Man, Bleachers). The album – which Simpson describes as "a sleazy, steamy rock n roll record" – is a marked departure from 2016's acclaimed A Sailor's Guide To Earth, which won Best Country Album and was nominated for Album of the Year at the 59th Grammy Awards.
---

John Coltrane: Blue World
In 1964, the National Film Board of Canada asked John Coltrane to record the soundtrack for a French-language film titled Le Chat Dans Le Sac (The Cat in the Bag). In June of that year, Coltrane's classic quartet entered Rudy Van Gelder's studio and recorded five previously-recorded Coltrane originals. For many years, viewers of the film who recognized the music thought that they were listening to the original recordings, though in fact they were new and had never been heard.
---

Tegan and Sara: Hey, I'm Just Like You
Twenty years into their career, Tegan and Sara have recorded an album that is based on the first songs they ever wrote. Hey, I'm Just Like You is their ninth studio album overall and first since 2016's Love You to Death. Hey, I'm Just Like You is a return to Tegan and Sara's rock and punk roots, with a punch of pop production. Recorded in Vancouver, Canada in April and May 2019, the album recasts the remarkable innate songwriting talents both possessed as teenagers, and allows these previously unreleased songs to benefit from the studio expertise they have gained in the past two decades – a period that has seen them release eight studio albums, earning seven Gold certifications and one Double Platinum certification in the process. Defiant and melodramatic, the songs capture the exultation and grief of first loves, first losses, ecstatic kiss-offs, and psychedelic tributes to friendship.
---

Opeth: In Cauda Venenum
Sweden's Opeth are preparing to release their most important record to date with "In Cauda Venenum". Certainly, fans and critics will have their opinion, but few records in the Swedes' oeuvre are as engaging, delicate, panoramic, intense, and musical as Opeth's lucky thirteenth. Sporting a clever Travis Smith cover-replete with inside jokes and a nod to King Diamond-a masterful Park Studios (The Hellacopters, Graveyard) production, Opeth's usual five-star musicianship, and lyrics entirely in Swedish, "In Cauda Venenum" raises the bar markedly. While a record in Swedish is a first-there's also an English version-for frontman and founding member Mikael Åkerfeldt, the 10 songs on offer feel and sound completely natural. As if years of listening to and being a fan of Swedish rock and hard rock has paid off. In a way, Opeth have come home. But the Swedish lyrics of the primary edition of "In Cauda Venenum" shouldn't distract from the quality presented in Opeth's new songs, the lot of which sneak up and take control after repeated listens. "In Cauda Venenum" is like that, tricky in it's complicated simplicity, resourceful in it's ability to charm with delightful if wistful melodies. Really, it's just Opeth being Opeth.
---

Grateful Dead: Saint of Circumstance
Widely considered one of the most exciting, inspired, and greatest shows of the Dead's final decade of performing, the magnificent 6/17/91 show features relentlessly excellent performances, and is filled with surprises. Opening with a shocking 'Eyes Of The World', the Dead were firing on all cylinders from the opening notes of the show. Featuring beloved classics such as 'Truckin' and 'Uncle John's Band'. Rarities played at this show included 'Saint Of Circumstance', 'Might As Well', 'New Speedway Boogie', and 'China Doll', but the real standout in regards to the setlist choices was the recurrence of 'Dark Star', which wove in and out of the setlist throughout the show, including during the first set, making no less than six distinct appearances during the show. With an encore of The Band's 'The Weight', the Dead cap off one of their most highly regarded shows ever with a perfect song choice to send the crowd on it's way. Bruce Hornsby and Vince Welnick join Jerry Garcia, Bob Weir, Phil Lesh, Mickey Hart & Bill Kreutzmann to round out this stellar line-up.
---

Beth Hart: War In My Mind
Beth Hart is as real as it gets. In a music industry full of glossy production and airbrushed photoshoots, this is one artist who throws down her cards, shares her darkest secrets and invites you to join her for the ride. With War In My Mind, this Grammy-nominated talent has never served herself up so raw on a record, one that embraces her merits and flaws, channels her bittersweet headspace and spins gold from her demons. The sleeve shot of Beth pounding a piano below her own personal stormcloud is a fitting representation of new material that hits like a force of nature. Having followed the fascinating career of Beth Hart for a quarter-century, we've learned not to rule anything out – so long as it's real. And now, with War In My Mind, this songwriter has made a record that bares her soul, wears her heart on her sleeve, and makes no apology for it.
---

New Pornographers : In The Morse Code Of Brake Lights
This is their eighth record as a band and second for Concord Records. The album is full of classic songwriting with twisting lyrical content that touches on the humanistic side of life in current times, craftfully penned by frontman A.C. Newman. The Morse Code Of Brake Lights first single is titled "Falling Down the Stairs of Your Smile." The song lays out what sounds like a New Pornos take on the "Billie Jean" groove at the beginning, and foregrounds the band's characteristic blend of A.C. "Carl" Newman and Neko Case of dual lead vocals. In a statement about the album given to Pitchfork, Newman commented that he noticed while writing the record that "lyrically so much of it was pointing toward car songs." He wrote: "There was so much of that throughout it that I started thinking: 'Oh, no, there's too many references to cars on this record!'
---

Charlie Parr
"Parr is a folk artist for the new American Dust Bowl, a resonator-ready troubadour armed with a well-worn satchel of troubled tales that cut to the heart of a nation mired in fear and in dire need of a roots-music revival." -Acoustic Guitar
"Taking acoustic blues and folk to the darkest edges of town via driving arrangements which emphasize steam-driven tempos and a doom-slinging attitude over spit and Polish studio shine, Parr nonetheless manages to sound both breathtakingly immediate and authentically antiquated at the same time." -No Depression "Charlie Parr has made his career hollering, picking, and stomping his way through the Midwest and beyond, leaving a trail of fine records that feel just a shade away from the great rural folk and blues songs of Harry Smith's epic Anthology of American Folk Music." -AllMusic CHARLIE PARR is the eponymous new album by the Minnesota-based folk blues artist the same name. The album is a collection of new songs and new studio versions of classics/ audience favorites from throughout Parr's career. Recorded at Pachyderm Studio in Canon Falls, MN, CHARLIE PARR features Charlie's trademark resonator guitar and 12-string with co-producer Liz Draper on bass, longtime collaborator Mikkel Beckmen on percussion, Jeff Mitchell on electric guitar, accordion, organ, backing vocals, and Dave Hundrieser on harmonica. The album is an honest and raw recording of Parr reflecting on himself and his career up to this point. It's a musical reckoning that came after a freak accident less than a year ago that forced him to relearn how to play guitar, causing him to take stock of the songs he's written over his lifetime. It's a bit of the new, a bit of the old, and a bit of what's motivated and moved him. Most importantly, it's an audio tour of his life and career to date and a celebration of more songs and stories to come. CHARLIE PARR is a stunning folk record that will surely stand the test of time, just like the man himself.
---

Michaela Anne: Desert Dove
is the new album from Michaela Anne and her first on Yep Roc Records. It was recorded in LA and produced by Sam Outlaw and Kelly Winrich (Delta Spirit). Michaela has been lauded for her timeless voice and narrative depth and this record takes that to the next level. The songwriting is confessional and unforgettable without being saccharin or self-indulgent; the tracks call to mind Michaela's diverse influences – everything from Stevie Nick's powerful voice and Fleetwood Mac's vibey arrangements to the Dixie Chick's incredible balance of conviction and catchiness – all showcasing her stellar voice and distinct vision.
---

Billy Strings: Home
Billy Strings has been hailed as the future of bluegrass, transcending tradition and genre with his high velocity, flat-picking guitar technique and intense, confessional songwriting. Home, Strings' remarkable second studio album, is undoubtedly the Michigan-born, Nashville-based artist's bravest excursion thus far, reshaping bluegrass into his own exceptional form, completely rewiring the aesthetic with elements of punk, country, folk rock, and genuine psychedelic exploration to fashion something altogether original and all his own. From the jump, Strings has infused bluegrass with his own experiences and inspirations, adopting traditional sonic and lyrical idioms to confront contemporary social truths. Songs like "Away From The Mire" and the remarkable title track are rooted in the past but as now as next week, animated by electrifying musicianship, inventive production, and Strings' irrepressible ambition. HOME marks a landmark on this constantly moving artist's ongoing creative journey, it's fearless songs and freewheeling approach recasting string-based American music in his own inimitable image.
~~~~~~~~~~~~~~~~~~~~~~~~~~~~~~~~~~~~~~~~~~~~~~~~~~~~~~~~~~~~~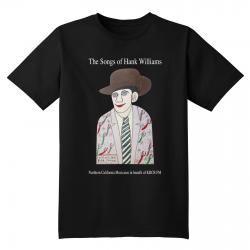 Hank Williams Tee Shirt
Our new snazzy tee shirt has the Howard Finster design on the front,
and our LRS logo on the back. $15 while they last.
~~~~~~~~~~~~~~~~~~~~~~~~~~~~~~~~~~~~~~~~~~~~~~~~~~~~


Rest in Peace Robert Hunter
~~~~~~~~~~~~~~~~~~~~~~~~~~~~~~~~