The Highwomen
a highly anticipated, collaborative movement formed by Brandi Carlile, Natalie Hemby, Maren Morris and Amanda Shires. "Anyone can be a Highwoman," Brandi Carlile notes. "It's about banding together, abandoning as much ego as humanly possible, holding one another up and amplifying other women every chance we get. Shoulder to shoulder. One push, one love." Continually demonstrating the importance of inclusion and collaboration, The Highwomen are joined by several guest musicians, vocalists and songwriters across the album. The project features Sheryl Crow (background vocals, bass), Yola (vocals, background vocals), Dave Cobb (acoustic/electric guitar), Jason Isbell (acoustic/electric guitar), Phil Hanseroth (bass, background vocals), Tim Hanseroth (guitar, background vocals), Chris Powell (drums) and Peter Levin (piano and keyboards) with songs written by Carlile, Hemby, Morris, Shires, Isbell, the Hanseroth twins, Rodney Clawson, Lori McKenna, Miranda Lambert and Ray LaMontagne among many others.
---

Country Music: The Soundtrack
Five CD set. "If you write the truth and you're writing about your life, it's going to be country. It'll be country 'cause you're writing what's happening. And that's all a good song is." – Loretta Lynn. Country Music, the eight-part, 16-hour film by Ken Burns, chronicles the creation of a truly American genre of music through the songs and stories of it's greatest trailblazers. Country Music: A Film By Ken Burns (The Soundtrack) includes more than 100 timeless classics as heard in the film, including songs by The Carter Family, Jimmie Rodgers, Bill Monroe, Bob Wills, Hank Williams, Johnny Cash, Loretta Lynn, Charley Pride, Willie Nelson, Dolly Parton and many more. This deluxe set includes 68 pages of liner notes and rarely seen archival photos, documents and memorabilia.
---

Common: Let Love
Common hasn't released a new solo album in almost three years. That changes in August 2019. Common will be releasing his new album Let Love on August 30 2019 through Loma Vista Recordings. The album is 11 tracks and features appearances from Daniel Caesar, Jill Scott, BJ The Chicago Kid, Swizz Beatz, Leikeli47, and more.
Let Love, which is based around his memoir Let Love Have the Last Word, is led by the single,"HER Love," which is a continuation of the "I Used to Love H.E.R." series. The album will be available to stream but you can also buy the vinyl on the Okayplayer shop.
---

Sheryl Crow: Threads
Nine-time GRAMMY Award-winner Sheryl Crow's new album of collaborations, THREADS, is out on The Valory Music Co.
Unveiling the cover art and full tracklist across social platforms, she premiered "Still The Good Old Days" featuring Joe Walsh and performed the song on The Graham Norton Show during a run of dates in Europe. Crow shared, "'Still The Good Old Days' totally captures what Joe and I believe about getting older…that life is still fun no matter what stage of life you are at, and that living isn't just for the young."
Other advance tracks already setting the pace for this diverse collection include "Redemption Day" featuring Johnny Cash, "Live Wire" featuring Bonnie Raitt and Mavis Staples and "Prove You Wrong" featuring Stevie Nicks and Maren Morris.
Further elaborating on the project, Crow reflected, "I became inspired to record an album of musical experiences with the legacy artists who inspired me to want to be a great songwriter, musician, and producer. It is a celebration with them, and a tribute to them. Just as importantly, I wanted to work with younger artists on this record, who I believe will pick up the torch and continue to light the way for humanity with their stories and their songs for many years to come. Their music inspires me every day."
---

Lana Del Rey: Norman Fucking Rockwell
It is Lana Del Rey's highly anticipated fifth studio album, following four previously released singles, including her Alternative radio hit, "Doin' Time."
---

Bon Iver: I, I
Bon Iver's most expansive, joyful and generous album to date. If For Emma, Forever Ago was the crisp, heart-strung isolation of a northern Winter; Bon Iver the rise and whirr of burgeoning Spring; and 22, A Million, a blistering, "crazy energy" Summer record, i, i completes the cycle: a fall record; Autumn-colored, ruminative, steeped. The autumn of Bon Iver is a celebration of self-acceptance and gratitude, bolstered by community and delivering the bounty of an infinite American music. The sales and accolades are well-known – multiple Gold albums, multiple Grammys, chart-topping collaborations and festival headlines. But even more significantly, with each release Bon Iver quietly shifts the state of modern music. From the boundaries of folk, to the rules of autotune, to production work for others, Bon Iver's fingerprint finds it's way across the mainstream every time. Vernon has always been a master collaborator, and on i, i that desire becomes maximal, with guests ranging from Moses Sumney and Bruce Hornsby to Wye Oak's Jenn Wasner and the Brooklyn Youth Chorus. Here, the music – and band, and themes, and creative space – are bigger than ever.
---

Tinariwen: Amadjar
Amadjar means 'the unknown visitor' in the language of Tamashek, the one who seeks hospitality and who's condemned to an inner exile, within a territory or within himself. The story of Amadjar, the ninth Tinariwen album, begins at the end of 2018, at the Taragalte Festival of nomadic cultures in the Moroccan Sahara. After a concert and a sandstorm, Tinariwen hit the road and head for Mauritania, via southern Morocco, Western Sahara and the Atlantic coast. The destination is important but no more so than the journey itself. Tinariwen are joined by their French production team, who arrive in old camper van that's been converted into a makeshift studio.
---

Miles Davis: Rubberband
Miles Davis shocked the music world in 1985 when he left Columbia Records after 30 years to join Warner Bros. Records. In October of that year, he began recording the album Rubberband in Los Angeles at Ameraycan Studios with producers Randy Hall and Zane Giles. The musical direction Davis was taking during the sessions marked a radical departure, with the inclusion of funk and soul grooves; with plans to feature guest vocalists Al Jarreau and Chaka Khan. Eventually, the album was shelved and Davis went on to record Tutu, leaving the Rubberband songs unheard and untouched for over 30 years. It was finished by the original producers Hall and Giles; with Davis' nephew, Vince Wilburn, Jr., who played drums on the original sessions for the album in 1985-86.
---

Death Cab For Cutie: Blue
EP release from the eight-times Grammy Award-nominated alt rock band. Along with all new tracks "Kids in '99" and "Blue Bloods" – produced by Peter Katis (The National, Interpol, Kurt Vile) – the EP also includes "To The Ground" and "Before The Bombs," produced by Rich Costey during the recording sessions for the band's critically acclaimed ninth studio album, Thank You for Today and held for this planned subsequent EP. The fifth track on the project, "Man in Blue," was self-produced by the band itself.
---

Chrissie Hynde: Valve Bone Woe
Chrissie Hynde has a new album 'Valve Bone Woe' release date September 6th, 2019. The album features reinterpretations of classic material penned by Brian Wilson, Frank Sinatra, Hoagy Carmichael, Charlie Mingus, John Coltrane, Nick Drake, Rodgers and Hammerstein, and Hynde's former partner Ray Davies.
The record was seemingly inspired by pre-war jazz sounds, and was recorded with the Valve Bone Woe Ensemble at London's AIR Studios.
I'm not hugely interested in branching out into other musical genres, being a devout rock singer as such, but jazz is something I grew up around (thanks to my bro) and I've always had a soft spot for it. I often bemoan what I regard as a decline in melody in popular music and I wanted to sing melodies.
---

Iggy Pop: Free
Free is the eighteenth studio album by rock icon Iggy Pop. It features contributions from Noveller and Leron Thomas. The album has been described as "reflect[ing]" the exhaustion of post-tour life" as well as "uniquely somber and contemplative" by Iggy Pop, who also called it "an album in which other artists speak for me, but I lend my voice".
//////////////////////////////////////////////////////////////////////////////////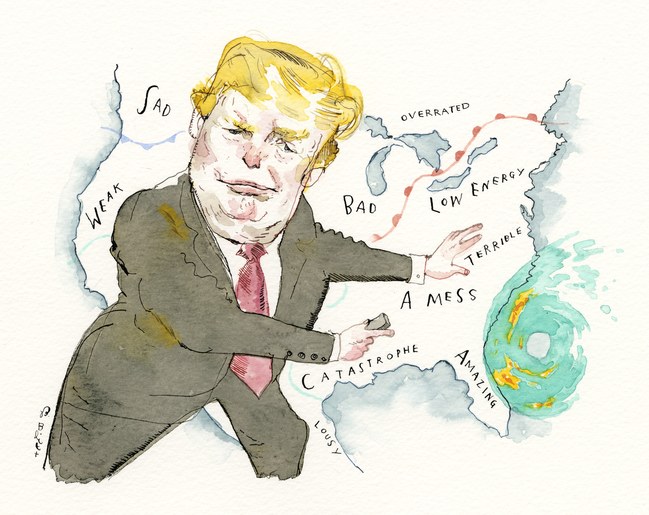 The BEST Weather Map.
///////////////////////////////////////////////////////////////////////////////////