NEW RELEASES Out November 1, 2019 (now):

Instrument of Peace: Full Steam Ahead
was written and recorded in the San Francisco Bay area.
The songs, easy on the ear, cover multiple styles and share humane stories relatable to people worldwide.
Music will touch your soul, warm your heart, move your body and open your mind.
IOP contributes its creative effort and hopes to honor the infinite and timeless medium of melody and rhyme.
IOP is filed in our Local Artists section on CD.
~All vocals & lyrics by PJ Malone (O U No U May Know Him)


~All instruments by Ilan Herman
~Engineered by Matt Insco
~Produced by Ilan Herman, Matt Insco & PJ Malone
~Album design by Bryon Stiky-tips
~Logo design by Jade Kendall Stone
---

Bob Dylan: Travelin' Thru, Featuring Johnny Cash: The Bootleg Series, Vol. 15
The latest installment in the long-running Bootleg series covers Dylan's journey to Nashville between 1967 and 1970. It includes recordings from the John Wesley Harding, Nashville Skyline and Self Portrait sessions and over 20 tracks from the legendary sessions with Johnny Cash. 50 tracks on 3 CDs – over 40 previously unreleased.
The Bootleg Series Vol. 15: Travelin' Thru showcases never-before-heard recordings from Bob Dylan's journey to Nashville—including his cherished collaboration with Johnny Cash.
While Dylan had recorded in Nashville once before in sessions that would form part of 1966's Blonde On Blonde, things had changed considerably when he came back to record a year and a half later—his first session since suffering a motorcycle accident that took him out of the public eye. On John Wesley Harding, Dylan worked more methodically than before; the seven alternate takes from the album featured here find Dylan fitting his songs' rhythms to match their lyrics.
Returning in to Nashville in 1969, Dylan shifted even more toward the sound of country music on Nashville Skyline, even adopting a distinctive croon in his singing voice. "Lay Lady Lay," "Tonight I'll Be Staying Here With You" and "I Threw It All Away" still rank among the most treasured entries in Dylan's songwriting canon.
A key participant in the Nashville Skyline sessions was Johnny Cash, who'd previously covered Dylan's "Don't Think Twice, It's All Right," leading to a deep mutual respect between the two musical legends. Though Cash appeared on only one song on Nashville Skyline, "Girl From The North Country" (and also penned the LP's Grammy Award-winning liner notes), Travelin' Thru features 25 previously unreleased tracks featuring Dylan and Cash in the studio. Highlights include takes on several of Cash's most recognizable hits ("I Walk The Line," "Ring Of Fire"), covers of Jimmie Rodgers and Carl Perkins ("Matchbox," featuring Perkins himself on guitar) and a unique medley of "Don't Think Twice, It's All Right" and Cash's "Understand Your Man." A month after Nashville Skyline was released, Dylan made his first live TV appearance in five years on The Johnny Cash Show; that performance is also included here, as are two Cash covers ("Ring Of Fire," "Folsom Prison Blues") recorded during the sessions to Self Portrait.
Travelin' Thru closes with a 1970 collaboration between Dylan and famed banjo player Earl Scruggs. Recorded in upstate New York for a PBS special on Scruggs, this informal session features renditions of Dylan's "Nashville Skyline Rag" and others.
---

Miranda Lambert: Wildcard
Wildcard is the seventh studio album by American country music artist Miranda Lambert. The album was produced by Jay Joyce, marking the first time Lambert has worked with the producer. It features the single "It All Comes Out in the Wash".
---

Cold War Kids: New Age Norms 1
Over their career, Cold War Kids have fielded music's seismic shifts while simultaneously sticking to their own game plan. Over the course of a dozen releases – including seven studio albums, multiple EPs, and a live album on majors and indies alike, non-stop tours and the festival circuit's biggest stages, massive radio, sales & streaming successes, the band have become a major part of the modern landscape. Their album New Age Norms 1, with lead single "Complainer" is the next chapter with the approach of taking apart the idea of what the band is and just trying to take the doors off a bit to see where it can go.
---

Booker T: Note By Note
In an emotional musical journey, Booker T explores new takes on the songs that make up the fabric of his musical identity. Largely mirroring the chapter titles from his forthcoming memoir Time is Tight, the album titled Note by Note serves as a musical companion. STAX staples like Cause I Love You and These Arms of Mine are woven into defining musical moments from Booker's journey after STAX, when he produced and recorded with artists as diverse as Willie Nelson and Carlos Santana. Booker T & the M.G.'s fans will enjoy a new ending to the song Time is Tight, a Romanesque coda that has been played live yet never recorded. The album culminates with new original music, highlighting the soaring guitar and vocals of Booker's son and collaborator Teddy Jones. Booker T is a 4 time GRAMMY Award winner (including the Lifetime Achievement Award), Rock and Roll Hall of Fame Inductee, and arguably the most famous Hammond B3 player in history.
---

Jeff Lynne's ELO: From Out of Nowhere
from Rock & Roll Hall of Famer and music legend Jeff Lynne, and follows up a remarkable run of sold out European and American tours. Jeff Lynne's ELO, whose music has touched fans deeply across three generations now, has found himself in recent years at the peak of his powers as a songwriter, musician and producer. This collection features a buoyant title song which opens the 10-track record including the wistful "Help Yourself" to the celebratory "Down Came the Rain" to the churning rocker "One More Time" to the sweet closer, "Songbird." As does it's predecessor, 2015's Alone in the Universe, From Out Of Nowhere shows Lynne finding new facets to his signature sound, at once drawing on his globally loved legacy and forging new paths in both sounds and emotions. Once again, he plays nearly every note of the music on guitars, bass, piano, drums, keyboards and vibes, as well as singing all of the lead and layered harmony vocals.
---

STONES.
50th Anniversary edition includes the remastered stereo version of the album and a 32 page booklet with an essay by journalist David Fricke and photos by the band's tour photographer Ethan Russell. Digitally remastered edition. The Rolling Stones' groundbreaking multi-platinum selling album Let It Bleed was released in late 1969, charting at #1 in the UK and #3 in the US. The Rolling Stones, at this point already a critically and commercially dominant force, composed and recorded their eighth long player amidst both geopolitical and personal turmoil. The second of four Rolling Stones albums made with producer Jimmy Miller (Traffic, Blind Faith), Let It Bleed perfectly captures the ominous spirit of the times with "Gimme Shelter," the opening track.
---

Hootie & the Blowfish: Imperfect Circle
With the rich, bluesy vocals of Darius Rucker and gleeful harmonies of guitarist Mark Bryan, bassist Dean Felber and drummer Jim Soni Sonefeld, Hootie & the Blowfish have sold over 25 million records worldwide to date after their infectious melodies hit the airwaves in 1994. The quartet met at the University of South Carolina where endless gigs at frat houses and local bars built a major local buzz. Their blend of pop, folk, blues, soul and rock made them hard to pigeonhole, but easily accessible to anyone who loved good music. The band took a break from full-time touring in 2007, reuniting annually for a variety of philanthropic events while also pursuing solo projects. 2019 marked the band's first full-time touring year in over a decade as they embarked on the Group Therapy Tour ahead of Imperfect Circle, their first album in nearly 15 years.
---

Anaïs Mitchell: Hadestown
Original Broadway Cast recording. Hadestown intertwines two mythic tales – that of young dreamers Orpheus and Eurydice, and that of King Hades and his wife Persephone – as it invites you on a hell-raising journey to the underworld and back. This Tony-winning score defies musical theatre convention, weaving together American songwriting traditions from indie folk to pop to blues and beyond. This album was produced by Grammy winner David Lai alongside Todd Sickafoose and Anaïs Mitchell, who also collaborated on Mitchell's celebrated modern folk album Young Man in America. Features vocal performances by Reeve Carney (Spider-Man: Turn Off the Dark), Tony nominees Eva Noblezada (Miss Saigon), Patrick Page (Spring Awakening), and Amber Gray (Natasha, Pierre and the Great Comet of 1812); and Tony winner André de Shields (The Wiz).
---

The Mavericks: Play The Hits
The Mavericks are masters of country-Latino-rock 'n' roll. They rode high in the country and rock charts of the '90s with culture-crossing hits like "What A Crying Shame" and "All You Ever Do Is Bring Me Down." In 2004 they went on hiatus to explore new musical avenues. But since a reunion in 2012, the Grammy Award-winning band has reestablished itself as one of the most exciting and joyfully entertaining acts on the touring circuit. Now, on their 30th anniversary, they're back to remind the world why they're so good with the new country covers album, Play the Hits led by takes on John Anderson's "Swingin'" and Freddy Fender's "Before the Next Tear Drop Falls" and featuring Martina McBride plus other special guests. "As musicians, you are always listening to other songs and you find inspiration and you talk about, 'Oh man, one day we're going to record this.' But other things get in the way. You hear every reason in the world as to why not do a covers record, but now we're in charge, so if we're not going to do it now, when the hell are we going to?" singer Raul Malo tells Rolling Stone.
---

Jeff Goldblum: I Shouldn't Be Telling You This
the second album from the Hollywood legend, coolest man on the planet and purveyor of fine jazz. And this time he's bringing his friends. Jeff has assembled an extraordinary gang of vocalists from all walks of musical life, some of whom are revealing their jazz voices for the very first time. The feel good jazz album of the year, featuring singers Sharon Van Etten, Fiona Apple, Inara George, Jeff Goldblum & Anna Calvi.
---

Michael Kiwanuka: Kiwanuka
from the British indie and folk rock singer/songwriter and record producer. Kiwanuka was produced by Danger Mouse and Inflo, who previously worked with Kiwanuka on Love & Hate. "The last album came from an introspective place and felt like therapy, I guess," Kiwanuka said in a statement. "This one is more about feeling comfortable in who I am and asking what I want to say. Like, how could I be bold and challenge myself and the listener? It is about self-acceptance in a more triumphant rather than melancholy way. It's an album that explores what it means to be a human being today." He has been nominated for numerous honors, including the Brit Awards, MTV Europe Music Awards, Mercury Prize, BBC Music Awards. In January 2012, he won the BBC's Sound of 2012.
---

Jon Batiste: Chronology of a Dream LIVE at the Village Vanguard
This title was recorded live at the historic Village Vanguard in NYC in the Fall of 2018 during Jon Batiste's residency at the legendary space. It is the follow up to Anatomy of Angels, which is part one of this two part series. The music on this release is original, instrumental music (other than "Soulful" which is a tribute cover to Ray Hargrove) showcasing Batiste's virtuosic and uplifting talent he uses to command a room, and an iconic one at that.
---

Keith Jarrett: 2016
A solo concert from Keith Jarrett – recorded on the last night of a 2016 European tour at Munich's Philharmonie – finds the great improvising pianist at a peak of invention. Creating a spontaneous suite of forms in the moment with the assurance of a master builder – interspersing touches of lyricism between pieces of polyrhythmic and harmonic complexity – he delivers one of his very finest performances. The audience hangs on every note, every nuance, and is rewarded with tender, magical encores. 2 CDs…
//////////////////////////////////////////////////////////////////////////////////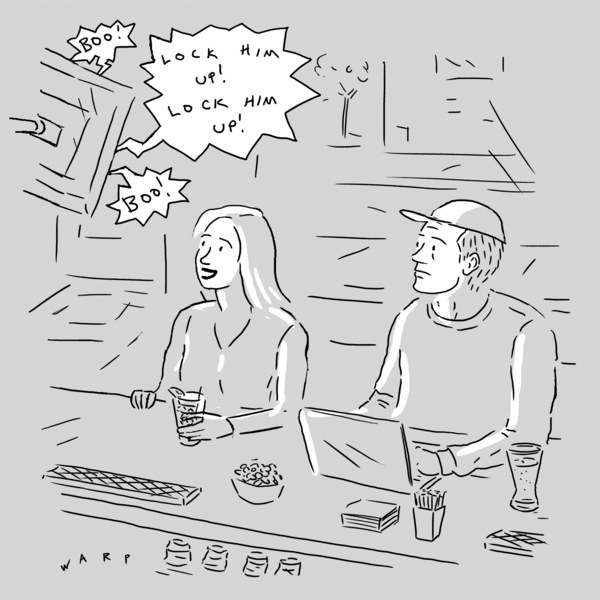 "Baseball always renews my faith in America"
thank you The New Yorker !